Olympic Content – blog 1 by pj kwong
---
Where were you in 2002 when the scandal erupted at the Pair event in Salt Lake City which precipitated the overhaul of the judging system? In short, Canadians Jamie Sale and David Pelletier were initially awarded a silver medal only to have it upgraded to co-Gold once it was discovered that there had been cheating on the judging panel.
Pretty heady stuff.
I was seated in the same spot that I would hold for the next 20 years at the Olympics; namely seated rink side as one of the PA or stadium announcers for the event. I watched as the scores came up and thought that in my opinion, I would have placed the Canadians first – but – well – 'that's skating.'
Who knew that we were a day or so away from this situation blowing up big time and people from the four corners of the globe suddenly interested in what was going on in my sport?
Watching from the stands, former Ontario competitive skater Carol-Ann Simon had her own reasons for coming to Salt Lake City: "I am a huge Olympics fan, having travelled to Albertville (1992) and Lillehammer (1994). I was able to arrange a business meeting in Salt Lake City and stayed with a business colleague. When I had a moment, I went into the streets and bought scalper tickets for us for the pairs event. I was determined to witness a Canadian Olympic gold medal."
In the moment – that isn't what happened.
Also, on the ground (more like a rooftop from across the street) was Debbi Wilkes, an Olympic Silver pair medallist, and TV commentator from Ontario who was in Salt Lake City with a friend to support Jamie and David.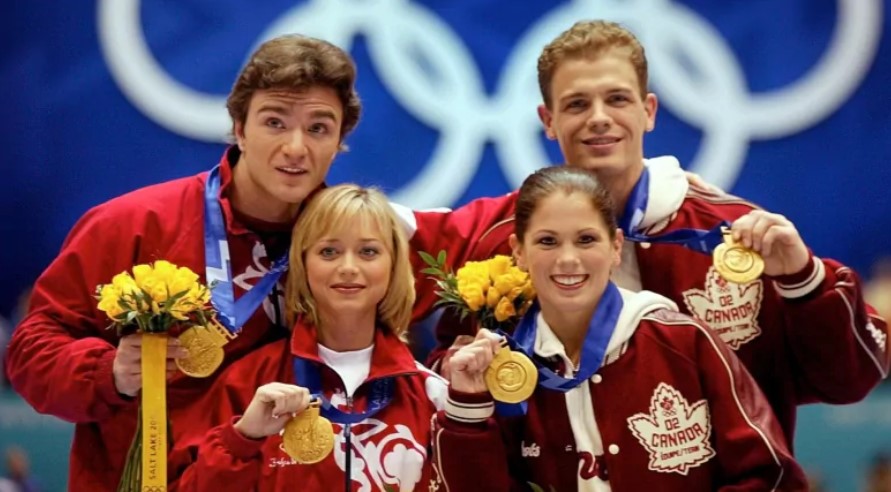 "The night of Jamie and David's free skate we were sitting in the stands to behold the perfection of "Love Story", thrilled by the impact of the performance and confident of a gold medal victory for Jamie and David … until the marks came up. The audience was stunned. And that was when my phone started ringing. It was my boss at CTV. "Can you stay to cover this story?"
Once the scandal story broke, she and her friend, who happened to be her TV producer swung into action providing reports back to CTV. A quick weekend with scalped tickets to watch the Pair event, turned into a much longer trip.
Debbi's words that describe the Olympics in 2002 are: Brave, historic, inspiring. She goes on to say: "After covering 9 Olympic Games, the one thing I know for certain? The Olympic experience is crazy; it will never be what you planned or expected. The world spins faster than normal under those 5 rings."
Soooooo…. Where were YOU in 2002? What do you remember from the Salt Lake City Games? Leave us a comment on our Facebook page and let's get this conversation going! Looking forward to sharing memories!
Here we are just days away from Beijing 2022 and all the skating surprises that come with every Olympic Games. Make sure you check out my exclusive blog for Skate Ontario on our page dedicated to the Games https://skateontario.org/2022olympics/. We will also be continuing with our live YouTube and Facebook Live show every Friday at 10am ET called #3Turn3. If you want to get caught up with the Olympians from the Skate Ontario family who will be found in every discipline in Beijing – Subscribe to our Skate Ontario YouTube channel , follow us on Facebook and check out these links:
kirsten moore-towers & michael marinaro
Don't forget to check out our sponsors page here!
---
Photo credit – CBC