Officials Update – April 2023
We made it through another season!  No one will say that it has been easy getting back on track after over two years of COVID protocols, closures, and cancellations.  Each of you played a role in making this season happen for the skaters in one way or another.
Thanks to your commitment and dedication along with support from the Skate Ontario Officials Working Groups and the Skate Ontario, we were able to deliver 41 events, with 16,127 entries.  We also want to thank our wonderful community of evaluators who were out in the clubs all season conducting assessments and providing important learning experiences for our Ontario skaters.
The Promotions & Pathways Working Group designed and circulated two surveys earlier this year to Ontario Singles/Pairs and Ice Dance Officials.  Thank you very much to the many Officials who completed these and included meaningful and insightful answers.   We had an incredible response rate to both surveys with a 70% response for the Provincial/Sectional Series survey and 40% for the STAR 1-4/Juvenile/BLTO survey.  This shows what a passionate and engaged community of Officials we have in Ontario, and we are thankful for all of you! Highlights from the survey can be reviewed HERE. 
Building on these surveys the Education and Development Working Group has begun to build a calendar of activities to support your on-going development.  Activities scheduled and planned from May 2023 through June 2023 are shared below.
In addition to these formal activities, we will be looking to include other enhancement and learning opportunities through the season and will continue to seek your input as we do so.
Thank you also goes out to those of you who participated in one of the online Strategic Plan exercises in March.  Your comments along with those of other stakeholders – coaches, Club Presidents, Board of Directors and Staff, will be important in creating an effective plan for the future.
National Volunteer Week April 16-22
Skate Ontario events aren't possible without a supportive community especially volunteers.  This year, to show our appreciation, all officials who attended an event, whether it be a competition or an assessment day were entered into a draw for some cool prizes.  Stay tuned to our social media pages to see if you are a winner.  All winners will be contact by Friday April 21st.
Upcoming Judge & Referee Education & Development
Diamond Ice Dance Clinic
Friday May 26   7:00 pm – 10:00 pm (times tbc)
To be held at Skate Ontario Office
This clinic is for Evaluator (STAR 6-Gold) or Gold Ice Dance Evaluator
Interested or have questions? Please contact Coordinator Officials, Dia Sue-Wah-Sing
Senior Ice Dance Judge Clinic
May 27 & 28     8:30 am – 4:30 pm
To be held at Skate Ontario Office
This clinic is for Novice Ice Dance judges seeking promotion to Senior Section Ice Dance judge.
Registration closes on Sunday May 7th.
Interested or have questions? Please contact Manager, Officials Therese Bilsborough
Please register here.
Senior Section Singles Clinic
June 9 – 11
Friday 6:00 – 9:30pm  Saturday 9:00 am – 5:00 pm
To be held at Skate Ontario Office
This clinic is for STAR 1-4 Event Assessors or Juvenile/Novice judges seeking promotion up to Senior Section Singles judge.
Registration closes on Sunday May 14th.
Interested or have questions? Please contact Manager, Officials Therese Bilsborough
Please register here.
Referee Forum
June 13 7:00 – 9:00pm
This will be held in an online format.
This session is for existing Event & Invitational Referees and those with no Referee qualifications looking for promotion (completion of Skate Canada online module is recommended) and Sectional & higher Referees who would like to take part in conversations regarding Refereeing.
Registration information to follow in May.
Better Impact Updates
The calendar view is now available. Organization wide opportunities can be seen in the calendar view under "Opportunities" . Ensure that the organization is set to " Skate Ontario (New)"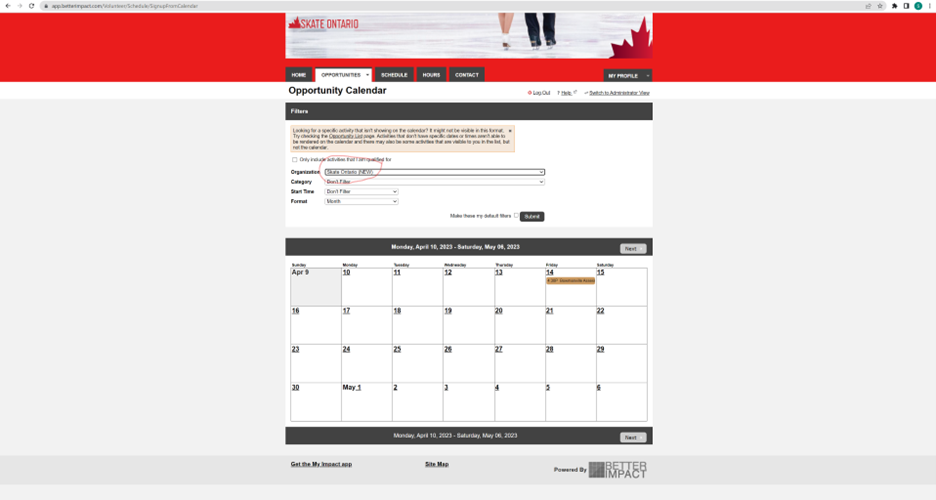 Reminder:
Assessment Coordinators  can use a combination of  scheduling in Better Impact and directly reaching out to evaluators to schedule assessment days.
For any questions regarding evaluating and Assessment Days, please reach out to Dia Sue-Wah-Sing, Coordinator, Officials.
For any questions regarding Officials development or event support, please reach out to Therese Bilsborough, Manager, Officials.