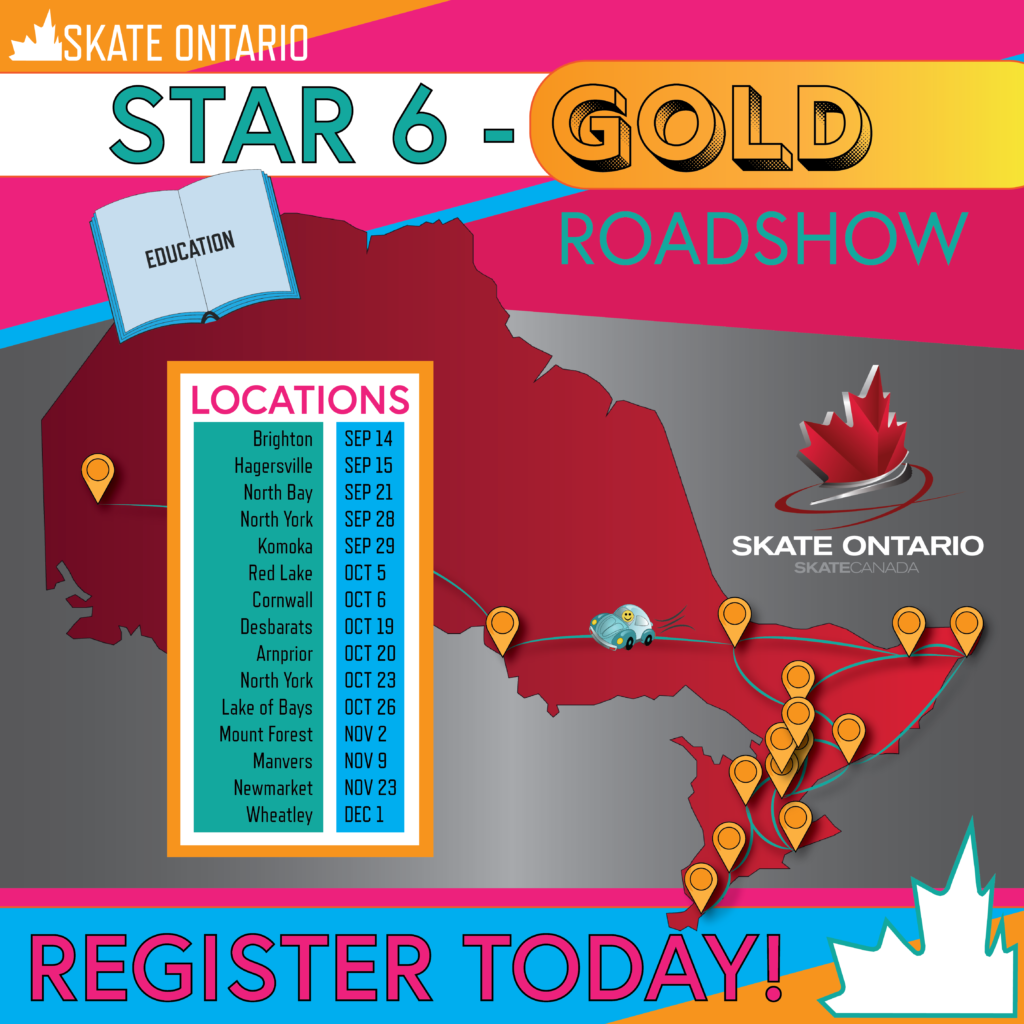 Now that you have completed the Introduction and Skills modules, let's take a more in depth look at the STAR 6 – Gold material during our STAR 6 – Gold Roadshow. Coming to a community near you, the roadshow will include both classroom and on-ice sessions for coaches and evaluators. Don't miss this important opportunity to learn about standards, ask questions and share ideas with colleagues.
OFF-ICE 
For both coaches and evaluators, classroom sessions will include the following topics:
Free skate – content overview
Dance – content overview
Artistic – introduction
Skills – content and standards
ON-ICE 
In addition to classroom seminars, we are excited to offer two separate on-ice sessions (for coaches only) at each roadshow location.
During the first on-ice session, our Program Resource Team will dive into the new Skills and Artistic content for STAR 6-Gold. The second on-ice portion will focus on turn mechanics and teaching progressions with an edge/turn specialist.
We are pleased to announce the specialists for the following roadshow locations:
Tracey Roberston (Komoka)
Darlene Joseph (Cornwall)
Vesna Markovich (North York #1 and Newmarket)
RoxAnne Daignault (Red Lake)
Mark Bradshaw (Hagersville, North York #2, Mount Forest)
COST:
| Date | Location | Coaches | Evaluators |
| --- | --- | --- | --- |
| September 14, 2019 | Brighton, ON | 8:00 am-4:00 pm ET | 12:00 pm-4:00pm ET |
| September 15, 2019 | Hagersville, ON | 12:00 pm-8:00 pm ET | 12:00 pm-4:00 pm ET |
| September 21, 2019 | North Bay, ON | 8:00 am-4:00 pm ET | 8:00 am-12:00 pm ET |
| September 28, 2019 | North York, ON | 8:00 am-4:00 pm ET | 8:00 am-12:00 pm ET |
| September 29, 2019 | Komoka, ON | 8:00 am-4:00 pm ET | 8:00 am-4:00 pm ET |
| October 5, 2019 | Red Lake, ON | 10:00 am-6:00 pm CT | 10:00 am-2:00 pm CT |
| October 6, 2019 | Cornwall, ON | 8:00 am-5:00 pm ET | 8:00 am-12:00 pm ET |
| October 19, 2019 | Desbarats, ON | 8:00 am-4:00 pm ET | 8:00 am- 12:00 pm ET |
| October 20, 2019 | Arnprior, ON | 8:00 am-4:30 pm ET | 8:00 am-12:00 pm ET |
| October 23, 2019 | North York, ON | 8:00 am-4:00 pm ET | 8:00 am-12:00 pm ET |
| November 2, 2019 | Mount Forest, ON | 8:00 am-4:00 pm ET | 8:00 am-12:00 pm ET |
| November 9, 2019 | Manvers, ON | 8:00 am-4:00 pm ET | 8:00 am-12:00 pm ET |
| November 23, 2019 | Newmarket, ON | 12:00 pm-8:30 pm ET | 12:00 pm-4:00 pm ET |
| December 1, 2019 | Wheatley, ON | 10:00 am-6:30 pm ET | 10:00 am-2:00 pm ET |