Hi everyone! I am so excited to be Skate Ontario's "Skater in Residence" for the month of April! As many of you know, I competed in the 2021 World Figure Skating Championships in Stockholm, Sweden, a couple of weeks ago and wanted to share a "behind the scenes" look at Worlds – Having some time off to think has made me realize just how much I learned while I was away.
I think that everyone can agree that this season was a weird one. With no in-person competitions in Canada, we were all left wondering if there was going to be a World Championship at all. The preparation and selection process for this event was a different kind of challenge because of all the uncertainty surrounding the event itself – if it didn't run, was all of the preparation a waste of time?
After the cancellation of Nationals, my coaches and I jumped right into preparation for worlds. I knew there was going to be a short program monitoring session before the team was announced, and I also knew that the turnaround time between team selection and the event was going to be tight. Massive shout out to my team for helping me prepare for monitoring even during the provincial shutdown – my facility was closed for about 6 weeks but my coaches and club did everything they could to help me feel prepared. I was nervous but excited for monitoring and for the possibility of competing at my first World Championships, and skated a clean program in simulations to earn my spot on the team.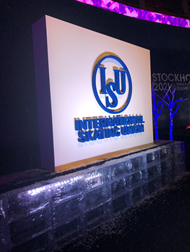 Once we actually got to Sweden, things started to get real! We got Covid tests on arrival and were in quarantine until the results came back. I did a workout in my room and went a little stir crazy sitting in one spot for so long. I always like to keep moving when I travel, and having to spend my first day in Stockholm in a hotel room was hard. By the time we got out on the second day, it was time to get dinner and go to bed before we practiced on day three.
One thing that surprised me at the event was the amount of practice before the competition. Normally even at an event like Nationals, you get one day of practice before your short. Here I got two before the short and one between the short and long. It was a little crazy trying to manage a whole week away, trying to stay in shape while also being rested for the competition.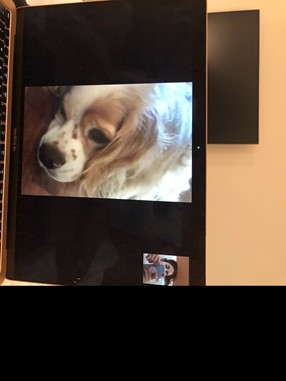 Managing the number of days away is something I've learned a lot about for next time – even just staying occupied for a whole week was a challenge. I spent a lot of time skyping with friends and family (and dogs) back home, reading, and watching Netflix.
The day of the short was a whirlwind! I skated early in the day so I had to sit and wait through the rest of the event. I really wasn't expecting to be in the top 10 after the short – I'd been aiming for top 15, and honestly am not sure how I pulled off a 9th place short at my first championship. It was so cool to skate in the same event as people who I'd seen compete back at worlds in 2013 (when I was 10).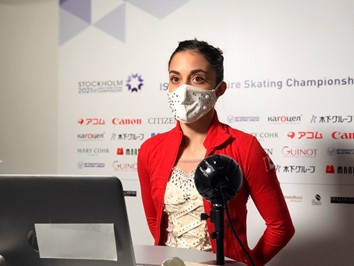 I also talked to the media (over zoom) for one of the first times. Check out the cool recording device they used in the mixed zone!      ->
The long didn't go exactly the way I'd planned, but I think I learned a lot more from making mistakes than I would have if I'd skated clean. I made some mental mistakes in my free, and some silly errors that really brought down my score. I realized how important being "overprepared" is – I knew how to fight through the program when things didn't go as planned.  Even though my skate wasn't error-free, there was still plenty to be proud of and improve on for next time.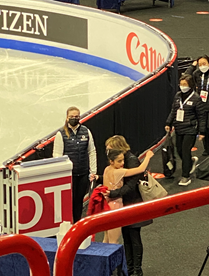 I'm still very much a "newbie" among the senior team – this is only my second senior season, and Worlds was my second senior international ever. I learned so much this year and am more motivated than ever to make it back for a "real" World Championship experience, where I will not only be more prepared, but more confident in my ability to contend with the top ladies in the field. Huge thanks to the Canadian team for making me feel so welcomed during the week – I was nervous to compete at such a big competition but having great people there with me made it so much easier.
Until next time, friends! I am happy to say that I am now out of quarantine and working on something new to share with you guys.
-Maddie