Hi again! I hope everyone has been having a good few weeks and enjoying the nice (but sometimes snowy) weather! When my last blog was published, I was just out of quarantine after worlds. Now I am back at it and preparing for the 2021-22 season!
If anyone had the chance to see my Instagram takeover last week, you'll know that I've started choreographing my new short program. I got tons of questions from everyone about my new programs, so I thought I would share a bit about what it looks like to take a new program from concept to competition, and what that means for me this season.
Music Selection
Choosing music is probably the longest part of the program creation process. I have always been super involved with my music selections, and finding something that me, my coaches, and my choreographer can agree on is normally a challenge ("No, you can't skate to Taylor Swift in an Olympic year"). I have a bit of background in music (I play piano) so I like to have a say in what I skate to. As I keep moving up the ranks, the programs and packaging get more and more important –  this year being an Olympic one it is more important than ever that we pick the right pieces of music.
Some years it has taken months of back and forth before my coaches and I find "the one". When I was skating junior (in the 2018-19 season), by the time my free program was cut we had floated over 50 different pieces of music.
I normally have an idea of what I want to skate to, but not always a vision. That's where my coaches and choreographer come in. For my short this year, I had a list of possible choices which made it a lot easier to narrow it down. After discussing with a few people, we decided to stick with the lighter style I do well. All in, we picked the music by the time my two-week quarantine ended after worlds, which meant that as soon as I got back to the rink it was time to start doing choreography.
Choreography
Asher Hill (Canadian ice dancer and 2012 world team member) has been doing my choreography for the past few years. He did my free in 2019 and both programs last season. I love working with Asher – his ideas are so different and cool. He likes to use modern shapes in his choreography, which never come naturally to me, but end up looking amazing in the final product.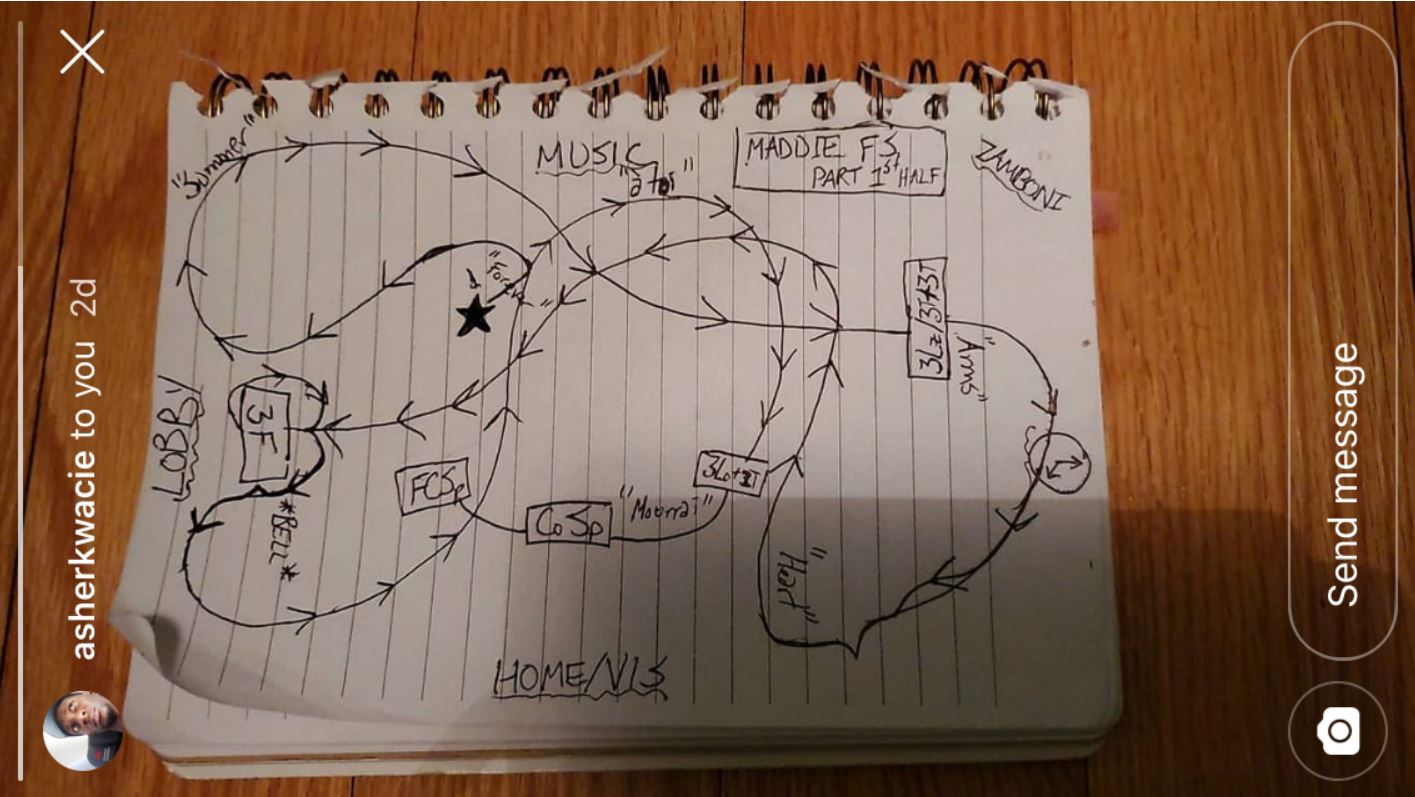 This year we are lucky to have ice time to work with, but last season Asher and I did all my choreography over zoom, off the ice. We used lots of drawings to keep things organized for when we were able to put the program on the ice. It was tricky trying to translate the patterns onto the ice once we got back – it took lots of back and forth with Asher before he was happy with the layout.
Having  ice to choreograph on made a huge difference this time around. Asher came up with some great stuff (and an amazing step sequence!) which I can't wait to show everyone.
Here is an early clip from my 2019-20 free – this was only my second season working with Asher so he was still getting to know my strengths and weaknesses as a skater. It's crazy to look back and see how far the choreography came between when this video was taken and the end of that season. This program was definitely a stretch for me stylistically, so Asher really had to push me to commit to the choreography, especially in competition.
Costumes
This is one of my favourite parts of getting ready to compete. Unlike a lot of people I like to get involved and my dress maker (Laurie Goulet) is really supportive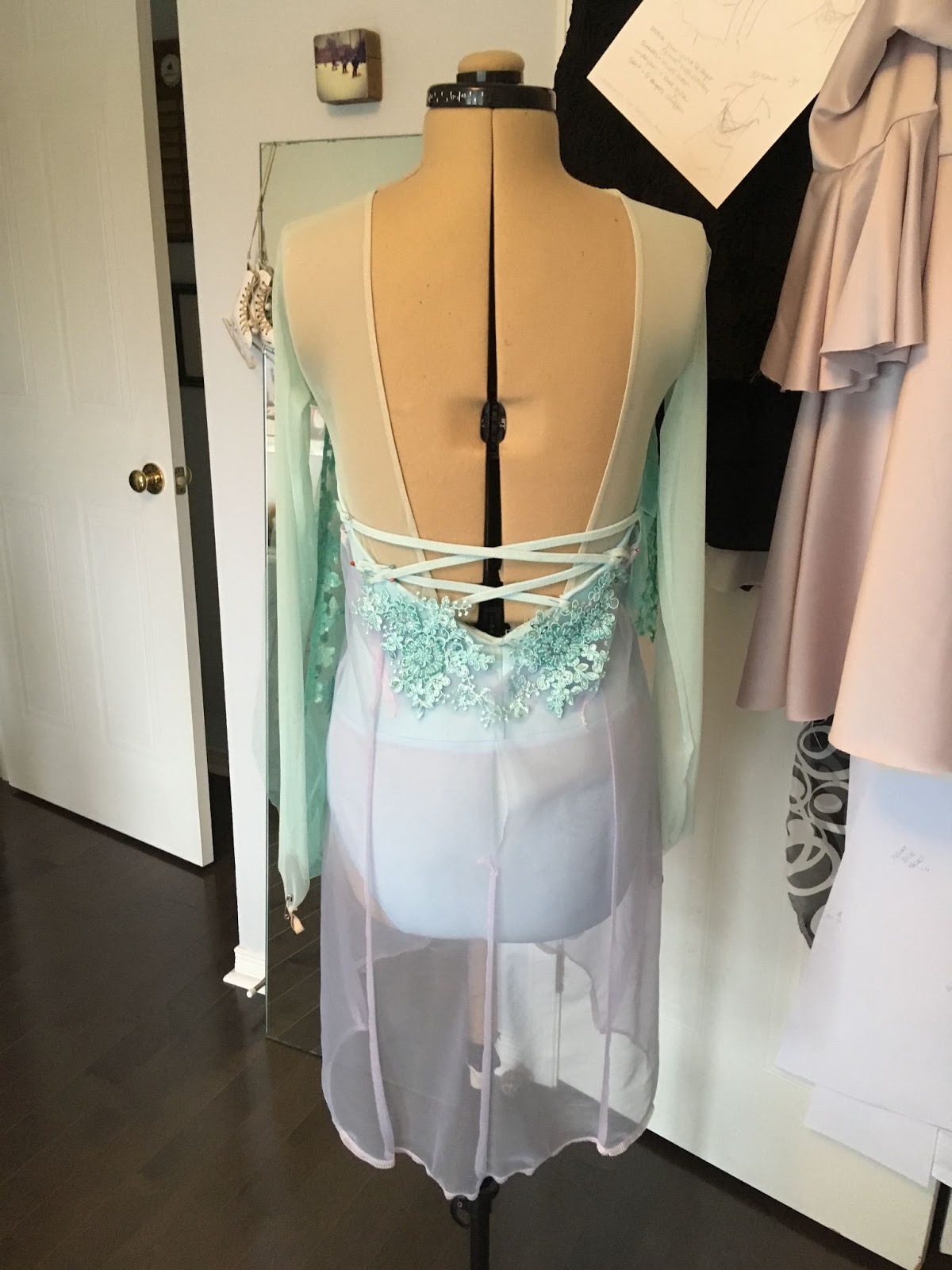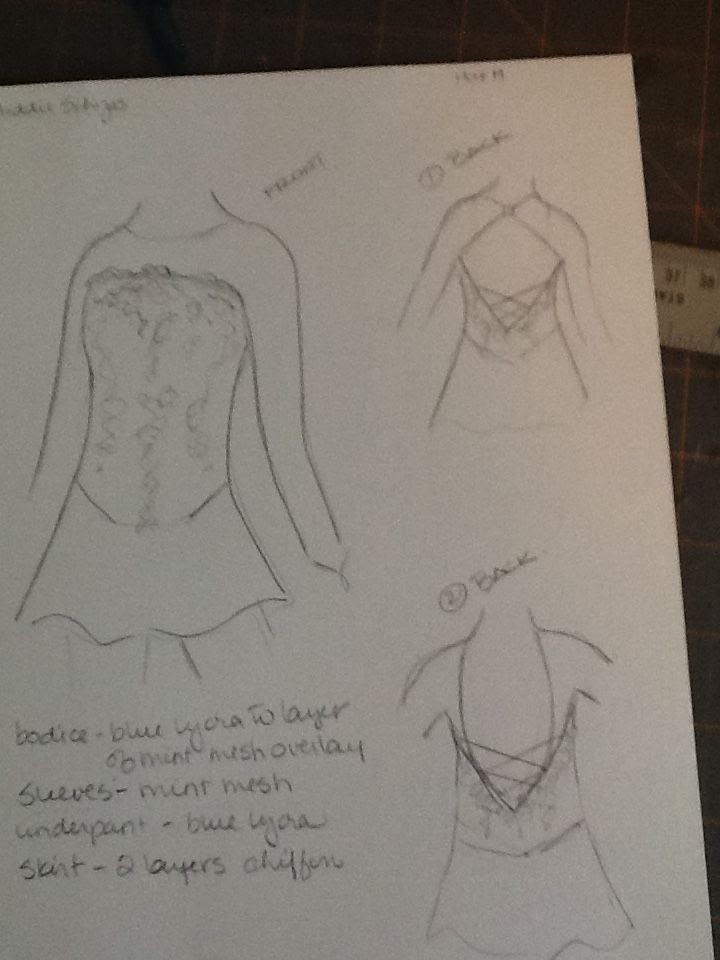 of me having input into my costumes.
<- My mum and I normally buy the fabric and then Laurie will do some sketches
And then put together a first mock up of the dress ->
Fun fact – I actually do most of the beading on my dresses myself! I learned to do it a few years back and find it really relaxing. Here's a photo of my short dress from last year after he beads got added – it makes a huge difference on the ice. This was one of my favourite dresses (and programs), so I was sad to see it go!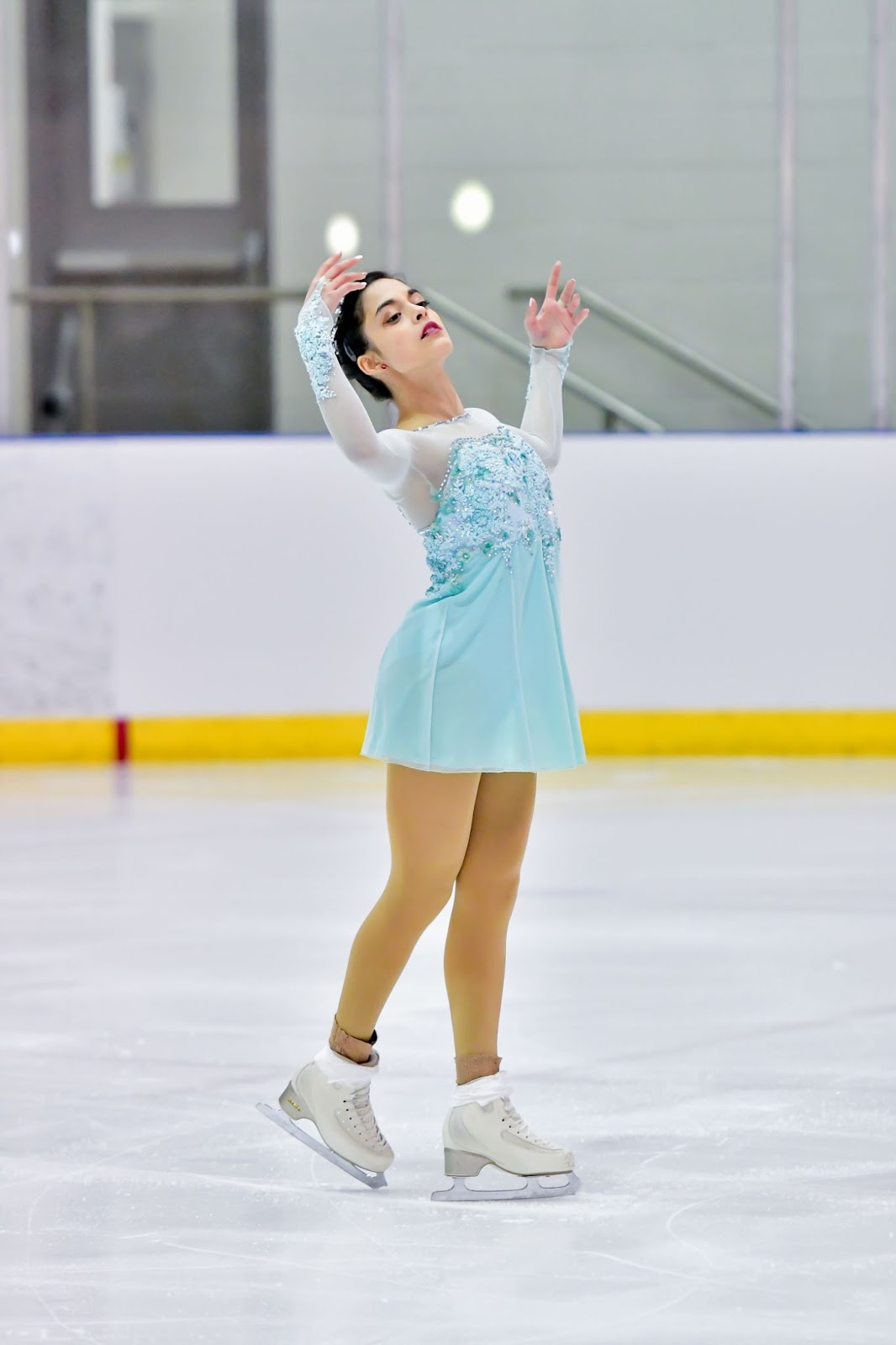 Training
The least glamorous part of getting a program ready to show is the training. All told, it is 2-3 months of work to get ready for summer events from the time the program is choreographed in the spring. At my rink, we run sections with elements and full programs with doubles, and slowly work up to doing a full run with all the jumps.
Asher comes in pretty regularly to fine-tune the transitions and step sequence throughout the season. Here is a clip from before Worlds where we were playing with the opening of my freeskate. We change things as necessary as the year progresses based on monitoring feedback and changes to the jump layout.
Final Product
I obviously can't show you this year's final product yet, because we have barely finished choreographing the program. Here is a clip from week one of choreography. It's obviously a work in progress at this point – lots still left to play with and perfect.
That's all for this month! Thanks to Skate Ontario for having me on, and to all of you for following along – I loved being able to share with everyone!