It is with great sadness that Skate Ontario announces the passing of Mary (Wright) Cappler in her 100th year on Wednesday, May 29, 2019 at Northumberland Hills Hospital in Cobourg, Ontario.
Well known for her volunteerism, Ms. Cappler was accorded the 2009 Citizen of the Year Award which honoured her lifelong contribution to the quality of life in the community of Port Hope. She generously donated her time to numerous activities in her community including many hospital fundraisers and taking time to read to residents in a seniors' home and volunteer at the Capitol Theatre in Port Hope.
The Skate Ontario family was also lucky enough to benefit from Mary's generosity where she was a dedicated volunteer at the Port Hope Figure Skating Club, where she sewed costumes for the ice shows and was involved in many aspects of club life. In addition, Mary was a judge for over 50 years where she had earned her gold level in figures, free skating and dance and judged in Canada and across Europe. She was also the Judges' Chairman for Eastern Ontario.
Mary Cappler will be greatly missed by all those who knew her in the skating community.
For more information, please visit:
https://allisonfuneralhome.com/tribute/details/1320/Mary-Hope-Cappler/obituary.html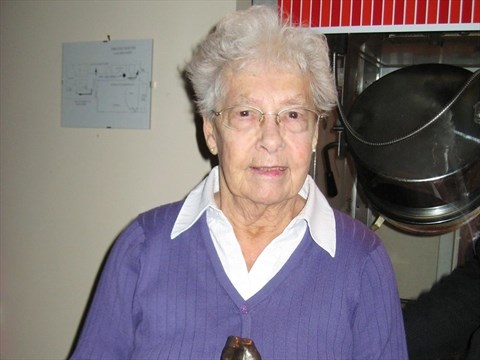 Mary Hope Cappler,  photo credit Jennifer O'Meara