It is with great sadness that Skate Ontario announces that coaching legend Bruce Hyland passed away peacefully on May 22, 2019, surrounded by family.
Along with his wife and coaching partner, Margaret Hyland, Bruce was responsible for guiding the skating career of many of Canada's international superstars. It was this work that led five-time Olympic coaches Bruce and Margaret to be inducted into the Skate Canada Hall of Fame in 1994.
Perhaps best known for guiding the careers of 1962 World Pair Champions Maria and Otto Jelinek, and Olympic silver pair and world bronze medallists Debbi Wilkes and Guy Revell, the Hylands were active as coaches for over 50 years. Just some of the skaters who worked with the Hylands read like a figure skating 'Who's Who"; names like Peggy Fleming, Kurt Browning, Brian Orser, Elizabeth Manley, Anna Forder, Don Jackson, Rick Stephens and Dorothy Hamill to name a few.
" It's interesting how people come in and out of our lives but there are only a few who have contributed to mine as much as Bruce did. Without him and his belief in me, I never could have imagined the success that he brought to my skating career. His love of skating was infectious. He was daring and inventive. He revelled in the glorious marriage of music and movement. Not only was he a great coach on the ice, motivating and creative, he was an incredible manager off the ice, in tune with emotions and able to say the perfect inspiring words at just the perfect time. I will forever be in his debt," offered Debbi Wilkes.
Details will be available shortly on The Dixon Garland Funeral Home Markham ON website. https://dixongarland.com/13/Home.html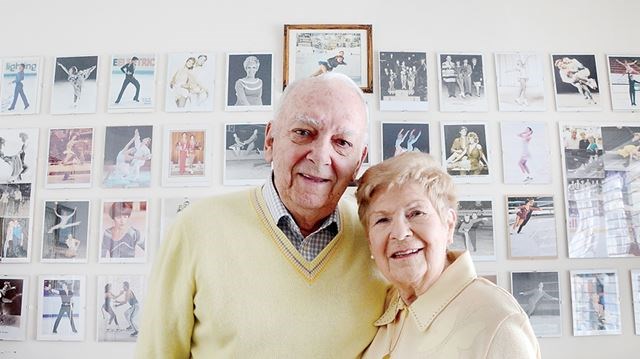 Bruce and Margaret Hyland, photo credit Mike Barrett