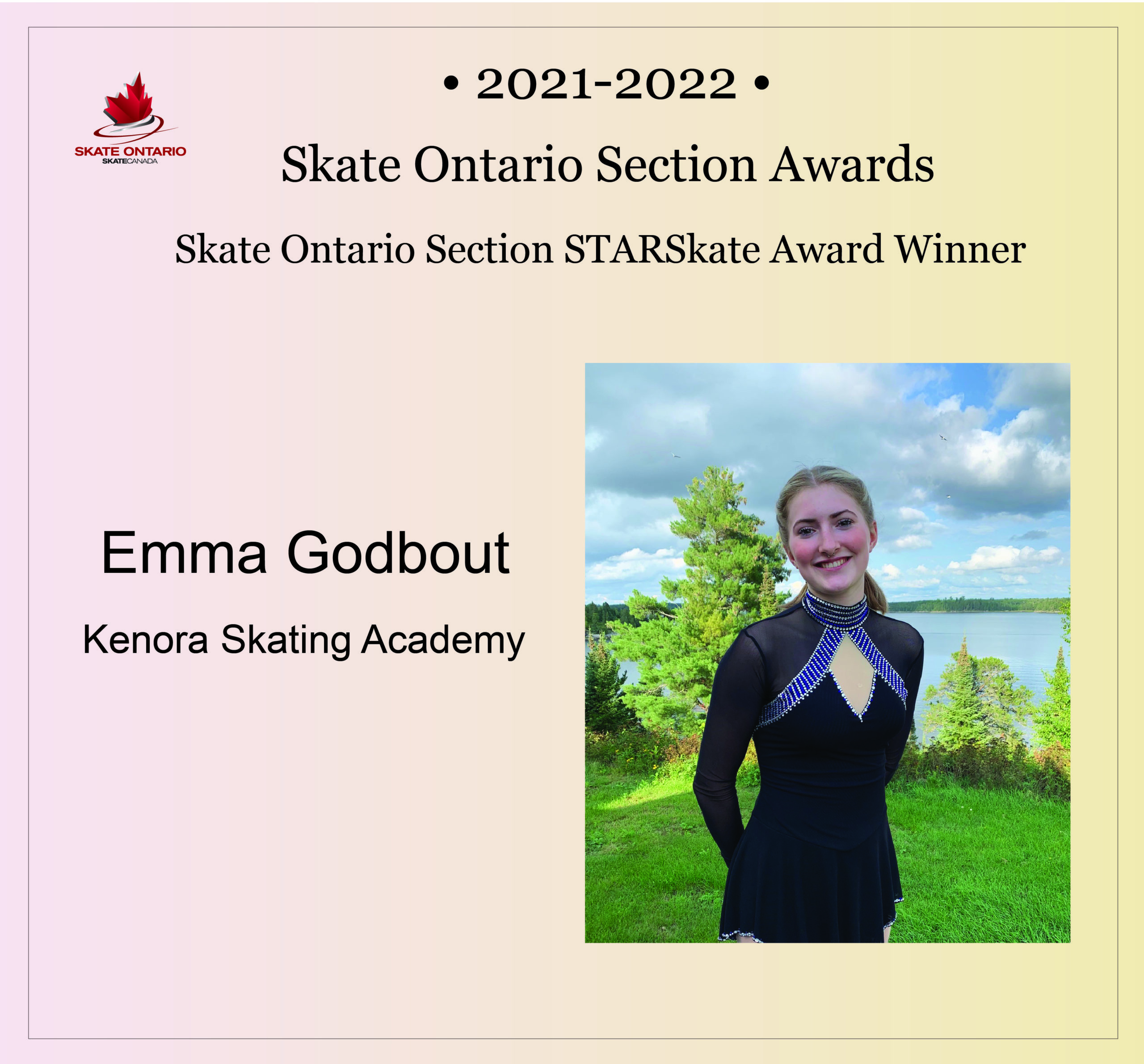 This year's Skate Ontario Section STARSkate Award goes to Emma Godbout from the Kenora Skating Academy. On the ice, Emma embraces all aspects of the STARSkate program working on Interpretive, Skating Skills, Dances and Free Skate program. She continues to work hard using excellent time management as she works towards completing all of the Diamond Dances and she has recently started to learn the lead steps throughout the dances to partner the skaters in dance.
Emma is a leader and role model within KSA by helping other skaters understand the point system or with dance patterns and recognizes her teammates successes or when they need a smile on a tough day. She volunteers her time as a Program Assistant with the CanSkate program at KSA and is always willing to lend a helping hand wherever needed. She aspires to take her CanSkate coaching course in the fall so she can begin her path towards coaching.
Off the ice, Emma is in the top 2% in student achievement (receiving 100% in Biology!) and works hard daily with her commitment to success in university level science courses. She gives back to her community, tutoring struggling peers as well as grades 9/10 math.  Emma works at a WNHAC Healing Lodge, involved in youth and adult outreach among various other activities. She meets monthly with a university medical student for a mentoring program, and is set on becoming a Pathologist.  Other passions include playing saxophone for the school band, but also dirt biking and snowmobiling.  Being a 'Lake of the Woods girl,' she also loves fishing and hunting in her 'spare' time.
"Emma would be an asset to any organization she belongs to.  She is a quiet and respected leader.  Skaters look to Emma for support and encouragement.  She leads by example her work ethic and dedication to this sport as a STARskater is incredible.  I feel honoured to have coached Emma for the past 13 years." RoxAnne Daignault –  KSA Team Coach
Please join us in congratulating Emma on being the recipient of the STARSkate Award.