"Figure skating has taught me not only a variety of physical and mental skills over the years but also many life skills that I have applied daily. Balancing on skates has translated into balancing my time management skills, such as training competitively while living away from home, obtaining a part-time job and going to school." -Mariah
Program: Pairs
Level: Senior
Skating club and town: Kitchener-Waterloo Skating Club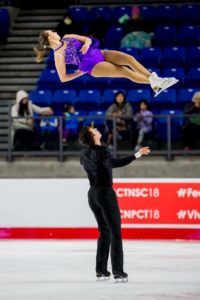 "I started figure skating because I grew up in a family of skaters and sports fans where my mother is a coach and a former competitive ice dancer. I received my first pair of figure skates at the age of two and I began CanSkate shortly after. Since then, skating has had a positive impact on my life," says Mariah McCaw.
Along with her partner, Steven Adcock, training at the competitive level has taught them a variety of life skills over the years which include goal setting, focus, ability to deal with success/failure, time management and principles of fair play and sportsmanship.
Steven mentions, "I train on ice 5 days a week, normally 2 hours a day. I train off ice 5/6 days a week. I try to match the number of hours off ice as I do on the ice."
For Mariah, her favourite experience in figure skating include being the flag bearer at the World Figure Skating Championships in London, Ontario in 2013. She carried the flag for the gold medallists in the men's and women's events where she stood proud for Canada as Patrick Chan received gold and for South Korea's Yuna Kim.
Mariah says, "The skating programs in Ontario have led me to many different opportunities that have allowed me to get to where I am today. I started lessons in Port Stanley in 2002 where I participated in the Canskate program to learn basic skills and where I found enjoyment on the ice." She adds, "The programs in Ontario allowed me to find a skating partner and start competing in Pairs."
Steven has some great advice for new and upcoming skaters, "stick with it and not to give up. Try and try again. Ice skating is a process, don't expect too much too soon. But at the same time, set achievable goals that will push your limits."