Coaches Corner Webinar
Skate Ontario is excited to announce the launch of a new webinar series. The first in this ongoing series will be a Coaches Corner webinar to provide our Ontario coaches with information and support during the COVID-19 situation. The first Coaches Corner webinar will take place on Wednesday, April 22 at 7:00 pm ET. The topics to be covered include online resources from Skate Ontario and Skate Canada, updates on NCCP training and Skate Ontario events, and information about virtual training.
To sign up for the webinar, please click here. Zoom links will be emailed to coaches who sign up.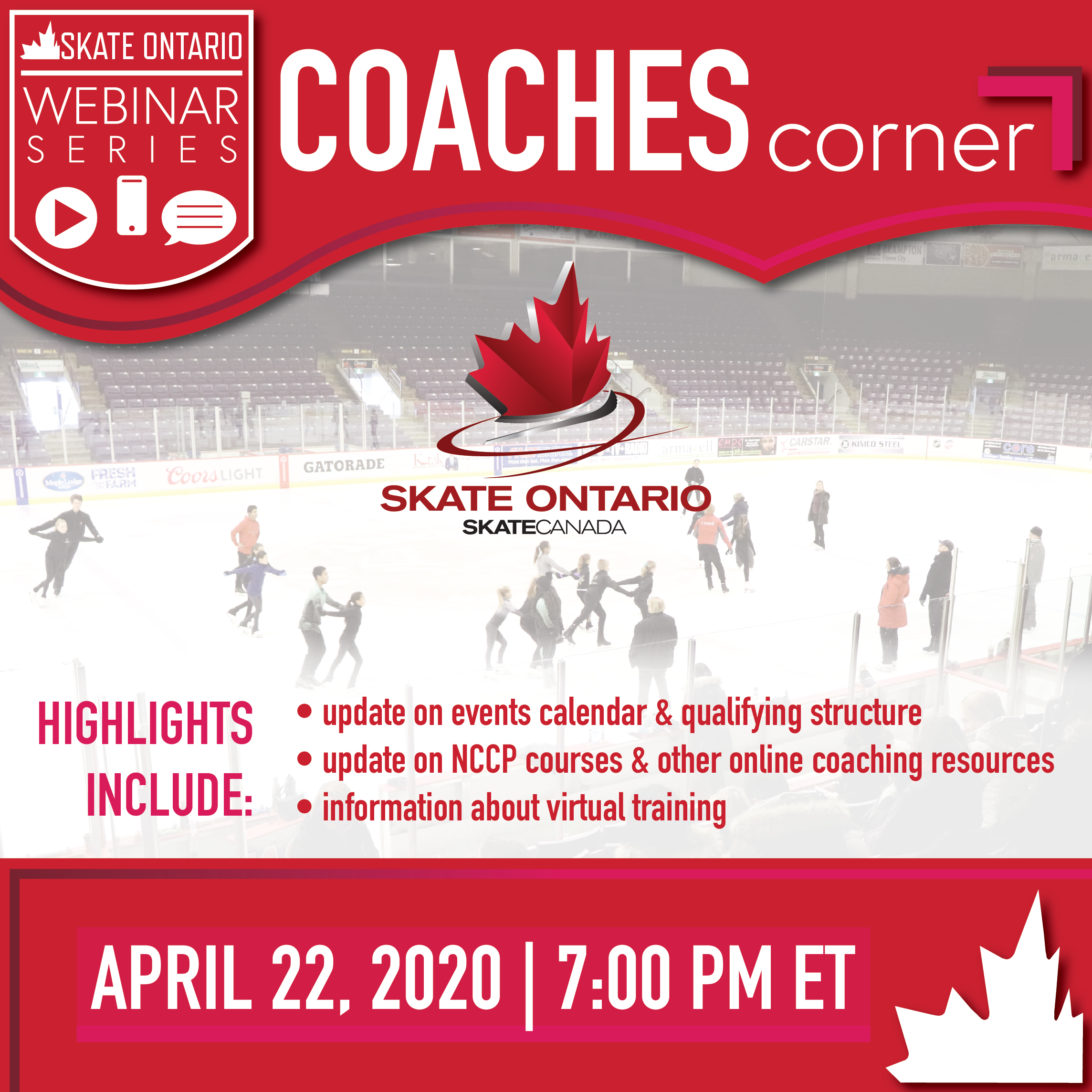 Skate Ontario Coach Survey
For the past several months, Skate Ontario has been partnering with Brock University to design a survey of our Skate Ontario coaching community. This survey will be sent to Skate Ontario coaches on Tuesday, April 21 as a means of understanding more about the composition of our large and diverse Ontario coaching community. We ask that you please take a few moments to respond to this survey to help inform our future planning.
If you know any coaches who are not receiving our communications, please direct them here to add their email to our distribution list.
Reminder – Skate Canada Suspension of Activities
We would like to remind our stakeholders of the communication from Skate Canada on March 17 that all Skate Canada sanctioned activities and programming are suspended until further notice. This suspension remains in effect and includes the use of private rinks that may be operating in some jurisdictions. Skate Ontario supports  this continued suspension along with the continued need for our skating community to follow social/physical distancing and other guidelines outlined by our governments and health authorities. We also remind you that Skate Canada insurance coverage will not apply to non-sanctioned activities.