Skate Ontario would like to extend congratulations to Mary-Rose Weir, for winning the Section Official Award as part of the 2020 Skate Canada Section Awards.
Mary-Rose has been generously officiating and volunteering in Ontario for approximately 40 years. She continues to evaluate and judge on a regular basis throughout the year at many different levels and she is always a positive role model and mentor to our other officials. She has taken the role of Tech Rep at many competitions, including at the 2020 Skate Ontario Sectional Championships.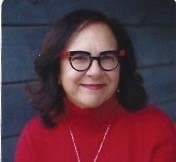 Last season, Mary-Rose played an invaluable part of the STAR 6-Gold roll out across the province and facilitated multiple STAR 6-Gold Roadshows for coaches and evaluators. She was actively involved in the transition to one Ontario section and provided a great deal of her business and HR expertise to the transition team.
Mary-Rose's positivity and professionalism shines through everything she does and we are fortunate to have her as a judge, evaluator and volunteer in Ontario.
From all of us at Skate Ontario, congratulations Mary-Rose!
---
To view the complete list of Ontario winners of the 2020 Skate Canada Section Awards, please click here.