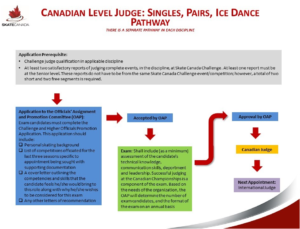 Juvenile & Novice Pair Judge Clinic
The Juvenile – Novice Pair clinic will be geared toward judges looking to build and expand their knowledge of pair skating up to and including the Novice level.  Using a supportive and interactive format, judges will learn about a variety of pair elements such as lifts, twists, throws, death spirals etc., how to assess the quality of these elements and how to apply the concepts of Program Components to the judging of pairs.
Skate Ontario is encouraging all judges to consider qualifications in multiple disciplines. Trial judging opportunities for those completing this clinic will be planned for our upcoming summer & fall competitions.  Further pair training clinics up to and including the Senior pair level are planned for Fall 2019.
Pre-requisite:  Juvenile singles promotion
Seminar Information
Information needed before registering: • Please make sure you have your Skate Canada number ready for registration.
You must attend the entire clinic.  The schedule for this clinic is from 10 am – 4 pm
Lunch will be provided. When possible, a vegetarian option may be available. If you have any other dietary concerns, please bring your own food.  All other meals will be at the candidate's expense.
Please note that all other expenses including mileage will be the candidate's responsibility.  However, for those candidates who live more than 1.5 hours drive one way, a hotel room, double occupancy, will be provided.  If you believe that you qualify for a room, please contact Officials Coordinator (tbilsborough@skateontario.org).
You will be required to bring:
HB Pencils
Pens
Paper
Flash drive
Water bottle
| Date | Location | Time | Registration |
| --- | --- | --- | --- |
| June 23, 2019 | Skate Ontario Office | 10:00 am-4:00 pm | Closed |
| July 15-16, 2019 | Ottawa, ON | 6:30 pm-9:30 pm | Closed |